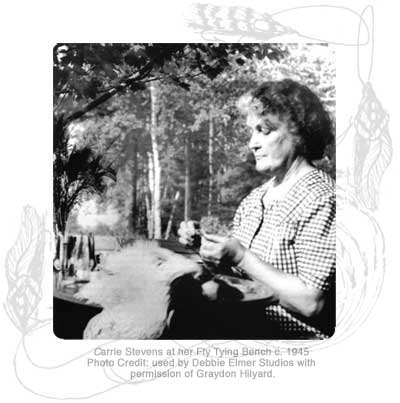 Carrie Stevens
Carrie Gertrude (Wills) Stevens (1882-1970) b. Madison, ME
Worked in Maine throughout her career, primarily Upper Dam, ME
Independent Fly Tyer - Widely Known for her Innovative Streamer Construction
Whereas, the many creations of this Maine woman, particularly the Gray Ghost Streamer, brought national and international attention not only to her own work but to the Rangeley area and the entire State of Maine as a fisherman's paradise…" -From the preamble to the State of Maine Proclamation August 15, 1970¹
Carrie Stevens did not tie streamers. She engineered them. Although her streamers would evolve into works of folk art, she intuitively understood that for beauty to survive, it must be supported by a structural integrity. Color catches fisher folk, but mechanics catches fish. -Graydon R Hilyard and Leslie K. Hilyard²
On July 1, 1924, Carrie Stevens caught a 6lb 13oz brook trout from a pool near her cottage in Upper Dam, Maine, on a streamer of her own unique design. Records indicated that a trout this size had not been taken from that pool in 35 years. This was a hallmark day for 42 year old Carrie who trained as a milliner and had taught herself to tie flies in the cottage that she shared with her husband, Rangeley fishing guide Wallace Stevens.
This trout landed her second place in the Field & Stream Fishing Contest and brought with it national fame. The story of her trophy catch was included in a fall issue of Field & Stream, the premier sporting magazine of the day, and soon after requests for her custom streamers were being placed. She filled these orders by mail as well as sold streamers at several specially selected locations near her home in the Rangeley Lakes region. By the 1940's she was well established as a fly tyer with notable clientele. She was the originator of dozens of unique streamer designs, most legendary among her creations was a smelt imitation named the "Gray Ghost". She has been called the innovator of the modern streamer as she approached streamer construction in a whole new style by altering her approach to design, color, shape, size and action. For more than 80 years, Carrie Steven's style of tying has inspired fly tyers and has remained one of the most popular methods of streamer construction.
Resources:
¹Copy of Proclamation by the State of Maine. Hilyard, Graydon and Leslie. Carrie Stevens Marker of Rangeley Favorite Trout and Salmon Flies Mechanicsburg, PA: Stackpole Books, 2000: pg 30.
²from "Carrie Stevens: A Fly Tyer's Progress" by Graydon and Leslie Hilyard in the Journal of the American Museum of Fly Fishing, Manchester, VT, Spring 2002, Vol. 28 No 2.
Latest News: Carrie Stevens
Welcome to WordPress. This is your first post. Edit or delete it, then start blogging!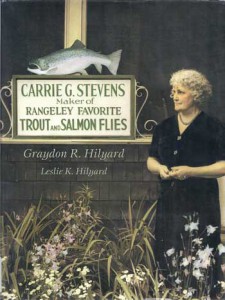 Since I am not one of the lucky ones to have purchased Graydon and Leslie Hilyard's book when it first came out.  I have been on a quest to find it at a public library.  This quest took me to Madison, Maine.
Sign up for the mailing list.