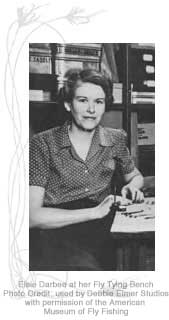 Elsie Darbee
Elsie Belle (Bivins) Darbee (1912-1980) b. Willowemoc, NY
Early Catskills Style Fly Tyer — First President of the Catskill Fly Fishing Museum
...they have even argued between themselves as to who tied what—but there are some purists who say that, while Harry is the better talker, Elsie is the better tier -Sports Illustrated¹
It was a treat to watch her place perfectly matched wood duck wings on a dry fly. One could only marvel at her abilities. When asked to perform the task slowly so that you could watch her every move, in order to learn her secret, she would do so, but no amount of watching or practicing could duplicate her skill... -Ed Van Put²
Resources:
¹Boyle, Robert H. "He Deftly Ties the World's Fanciest Flies," Sports Illustrated. New York City, NY. June 29, 1964.
²Van Put, Ed. Trout Fishing in the Catskills. New York, New York. Sky Horse Publishing, 2007: pg 322.
Latest News: Elsie Darbee
Here is a post for Elsie Darbee
Sign up for the mailing list.