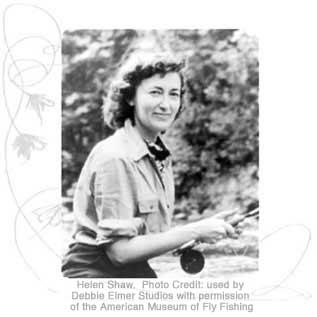 Helen Shaw
Helen Elizabeth Shaw Kessler (1910-2007) b. Madison, WI
Early Independent Fly Tyer — Author
At the early age of 20, Helen Shaw had already established herself as a fly tyer in her hometown of Sheboygan, Wisconsin. Each year, from 1939-1941, she demonstrated fly tying at the International Outdoor Shows in Chicago, Illinois. She was widely known as a very reputable independent fly tyer throughout the fly fishing community. A chance meeting with the acting Art Director for Field and Stream magazine, Hermann Kessler, eventually led to a marriage in 1953. Together, with Helen as the author and Hermann as the photographer, they collaborated on two books, "Fly-Tying" (1963) and "Flies for Fish and Fisherman: The Wet Flies" (1989). Not only was Helen Shaw was one of the earliest women authors on the subject of fly fishing, but these books helped make fly tying accessible and understandable to a wide audience. Many consider these books definitive works on fly tying which set the standard for instructional books on fly tying.
Resources:
Peterson, Harry. "Helen Shaw: A Quiet Pioneer" Journal of the American Museum of Fly Fishing, Manchester, VT. Winter 2008
Albany Times Union newspaper, December 23, 2007. obituary section.
Not Found
Apologies, but no results were found for that search.
Sign up for the mailing list.