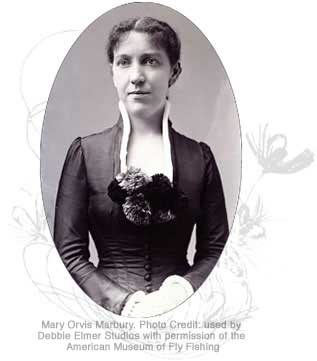 Mary Orvis Marbury
Mary Orvis Marbury (1856-1914) b
Predominately worked in ( region)
Early Author who Helped Record and Standardize Fly Patterns
The legacy of Mary Marbury, through her book and her leadership in Orvis's commercial fly-tying operation, is the standardization of American fly patterns. Her book Favorite Flies and Their Histories, remains one of the most significant landmarks in American fly tying literature.The American Fly Fisher Journal¹
'Favorite Flies,' the first encyclopedia of American (as opposed to British) patterns, was a landmark publication. In addition to compiling the responses from more than 200 fly fishermen in 38 states, Marbury provided introductory material on stream entomology, which she had first written for publication in outdoor periodicals, as well as histories of the flies discussed-The New York Times, 1988²
Resources:
¹"The Mary Orvis Marbury Fly Plates." The American Fly Fisher. Manchester, VT. American Museum of Fly Fishing. Volume 6, Issue 3: Summer 1979. pg. 15.
²Barry, Ann. "Outdoors: An Angling Classic Returns to Print," The New York Times. New York, New York. Sport Section. October, 30, 1988.
Not Found
Apologies, but no results were found for that search.
Sign up for the mailing list.