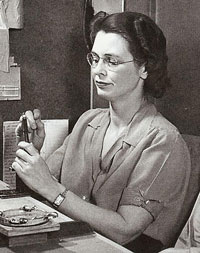 Winnie Dette
Winifred "Winnie" Eveylyn (Ferdon) Dette (1909-1998) b. Roscoe, NY
Lived and worked in Roscoe, NY
Early Catskills Style Fly Tyer
To Walt, Winnie and Mary - For preserving the tradition, but especially for sharing the art of tying the Catskill flies — with thanks from countless thousands of anglers and fly tyers, then, now, and to come. -Eric Leiser¹
Winnie's fly-tying talents are legendary, yet I most remember her for the grandmotherly kindness she always extended to me during my teenage years. Looking back at my years with her, when I was a youngster enamored with fly fishing, I must have been like a gnat, constantly asking her questions, while she tied flies, about the origins of certain trout flies that I pulled from her files. But she never seemed annoyed or impatient, and was always happy to answer a barrage of questions, sometimes late into the evening. There was always a warm bed, a nice dinner or a good laugh to be found at Winnie Dette's home.-Mike Valla²
Winnie grew up near the banks of the Beaverkill River where her parents operated a family owned thirty-six-room summer hotel, the Riverview Inn, which catered to a large clientele of fishermen every spring. In 1927, when Winnie was 18 years old, she began dating Walt Dette. Walt had rented a small room above the local movie theater in order to wind guides on fishing rods in the evenings after work. However, by the end of the year both Winnie and Walt, along with their friend Harry Darbee were busy learning about fly tying and setting up the room with supplies. In December Winnie tied her first fly. Although Walt was not interested in developing a tying business at that time, Winnie took some of her flies to the Riverview Inn where she sold them out of the hotel cigar case. Soon, in 1928, Winnie and Walt married. For the first two years of their marriage they continued to sell flies out of the hotel. Customers during this early period included such notables as Preston Jennings, Cory Ford, Ed Hewitt, Jack Atherton and Roy Steenrod. By 1933 they were receiving wholesale orders for hundreds of flies, which helped carry them through the depression. Eventually their fly shop would be in the front room of their home. Thousands of fishermen would pass through those doors. Although Winnie and Walt both held jobs outside the home as well as raised two children — they also succeeded in becoming widely regarded for their talents in tying Catskill style flies. Moreover, they were regarded for their willingness to share information and techniques during a time when these were secrets that were highly guarded.³
Winnie Dette and her husband, Walt, along with their friends and associates made up the angling fraternity of the Beverkill-Willowemoc Rivers during the early days of fly fishing in the Catskills.
Resources:
¹Leiser, Eric. The Dettes a Catskill Legend. Fishkill, NY: Willowkill Press, 1992: from the dedication page.
²Valla, Mike. "Pioneers and Legends Winifred Ferdon Dette: Catskill Fly Tyer." Eastern Fly Fishing Magazine. Seattle, Washington. Jan /Feb 2010.
³Valla, Mike. "Winifred Ferdon Dette: Diary of a Catskill Fly Tier." Journal of the American Museum of Fly Fishing. Manchester, VT. Vol. 33 No 4. Fall 2001.
Not Found
Apologies, but no results were found for that search.
Sign up for the mailing list.